A full online store is coming soon!.  Here are some familiar Terry The Traumasaurus products we will be listing.Colouring Books
Terry the Traumasaurus colouring books have been so popular, they're on their second edition now. Paramedics can use them to hand out to children as give-aways for school visits, parades or tours. The paper is high quality and easy to draw on and the illustrations big, bold and fun to colour in. In addition, throughout the books are important messages to the kids about seatbelt and playground safety. Perfect EMS Week give-aways.
Plushies
Dinosaurs always hold a special place in young kids' hearts. That's why children are immediately drawn to Terry the Traumasaurus plushies. Ideal for clinics, parades, EMS Week or as a way to help or comfort a child during a difficult time after a trauma.
Stickers
Kids love stickers! Terry the Traumasaurus stickers are an easy item to carry in a pocket or a kit and give away to kids as a good way to connect with them wherever you happen to be. Plus, they include positive statements worth reinforcing. Ideal handout for EMS Week.
Tattoos
If you think kids love Terry stickers, they love Terry tattoos even more.A great memento to keep at hand, Terry tattoos are colourful, easy to apply and safe. Works as a good give-away for EMS Week, too.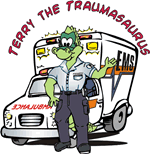 Costumes